My monthly newsletter book reviews can be found on my Reviews of what I'm Reading page. But as I read more than one book a month, I leave other reviews here on my blog. They also get posted to Amazon and Goodreads.
Here's my review of Tropical Kiss by R S Jonesee

The first in the Postscript Island series, Tropical Kiss sees the protagonist of the prequel Tropical Love much older, successful and full of wisdom – even if his pithy sayings are taken from the calendar his grown daughter and the resort's helicopter pilot gave him. (Loved this touch). Tropical Kiss brings us new characters to follow on the island resort – with all their ups and downs, of which there are many.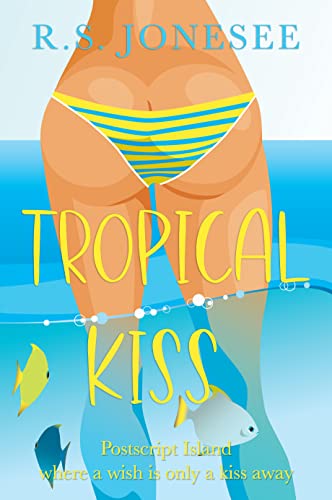 Billionaire and 'most eligible bachelor' Heaton is nursing a furious and broken heart. He caught his gorgeous girlfriend naked on his mansion staircase while being pursued by his French chef (also naked). The day he was going to propose too. He's fled to Postscript Island, in full disguise, to recover. So has Liz, also in a disguise of sorts, having been jilted mere days before her wedding when her fiancé wins $40 mio on the lottery and decides he'd like to live a little before being tied down to the 'aloof' Elizabeth.
I read this book expecting a fun, quick and easy read with a touch of naughty sultriness on the side. I got that, but I was also drawn into Liz and Heaton's inner turmoils. This is by no means a straight enemies to lovers romance. Given their disguises, Liz and Heaton's relationship is complex as they sort through not only what they feel for each other but how honest the motives of the other person are. There are times when you want to scream at them both, and it made for an engaging read.
The supporting cast by and large fall into 'good guys' or 'bad guys' categories, which makes them great foils for the main characters. And the setting makes me want to jet off to the nearest tropical resort, hopefully with the next Postscript Island tucked in my beach bag.
Well done, RS Jonesee and thank you for the read.

(Click here to purchase.)
I'm looking forward to interviewing Rebecca in my June 2022 newsletter, so sign up here to make sure you don't miss it. It will be fun!