Emma Lombard's interview first appeared in my April newsletter – to meet other authors, why not join the mailing list? Check out past copies and find the subscribe box here.
In March, I reviewed Emma's debut release, Discerning Grace, and now you have the chance to meet the woman behind the story.

In addition to her author activities, Emma works hard to support other writers. From how to navigate your early days on Twitter, through an awesome list of writer resources, to sharing her personal writing-related experiences, Emma's website is a compulsory 'go to' place for all of us needing a helping hand. And of course, for readers wanting to know more about Discerning Grace, and about the next books in the White Sails series.

Thank you, Emma for being here.

emmalombardauthor.com




What is your new novel, DISCERNING GRACE (Book 1), about?



Wilful Grace Baxter will not marry old Lord Silverton with his salivary incontinence and dead-mouse stink. Discovering she is a pawn in an arrangement between slobbery Silverton and her calculating father, Grace is devastated when Silverton reveals his true callous nature. Refusing this fate, Grace resolves to stow away. Heading to the docks, disguised as a lad to ease her escape, she encounters smooth-talking naval recruiter, Gilly, who lures her aboard HMS Discerning with promises of freedom and exploration in South America.
When Grace's big mouth lands her bare-bottomed over a cannon for insubordination, her identity is exposed. The captain wants her back in London but his orders, to chart the icy archipelago of Tierra del Fuego, forbid it. Lieutenant Seamus Fitzwilliam gallantly offers to take Grace off the fretting captain's hands by placing her under his protection.
Grace must now win over the crew she betrayed with her secret, while managing her feelings towards her taciturn protector, whose obstinate chivalry stifles her new-found independence.
Please tell readers a little about yourself?

I'm a bit of a globe trotter, not only having travelled to different continents but also having lived on different ones too! I was born in the UK, spent my childhood in Africa and my adulthood in Australia. I'm staying put now. I was eleven when I started writing my first novel and fourteen when I finished it. I had the incredible opportunity at the time (through a friend) to have my raw first draft put directly onto the desk of an editor at a large publishing house (oh, for that opportunity now!)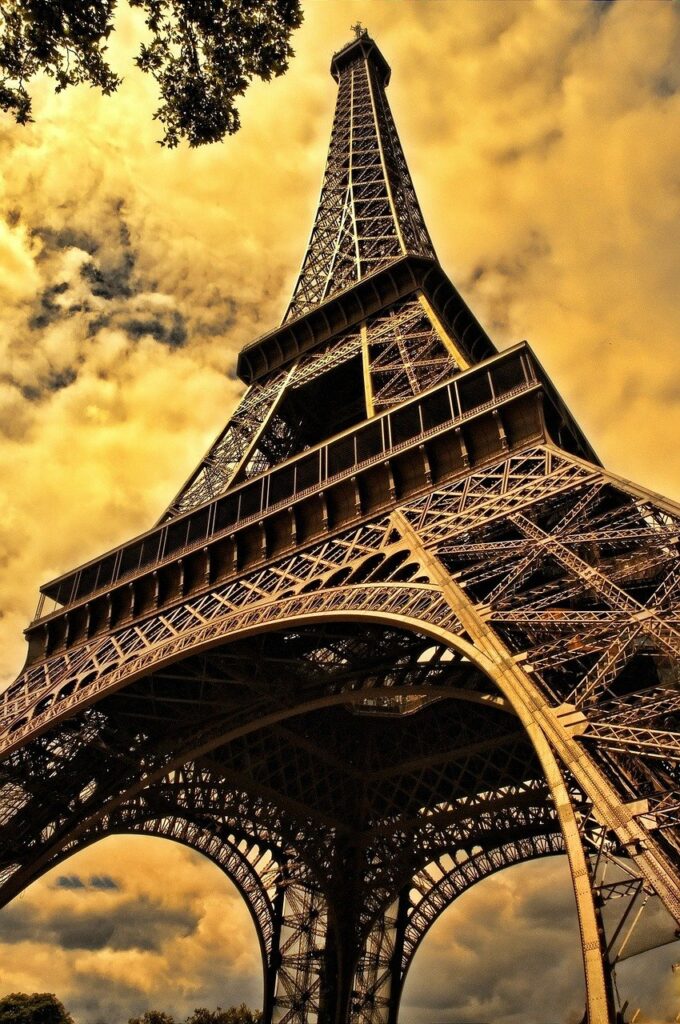 Naturally, it was rejected (with some wonderful feedback, I might add). Alas, fourteen-year-old me didn't cope very well with the rejection! So, I shelved the idea of writing for a while. It was only after my kids got to a more independent age that I began thinking seriously about switching careers from being an editor in the corporate world to a full-time writer.
Image by Edi Nugraha from Pixabay
Fun fact: to combat my chronic fear of heights, I've climbed the Eiffel Tower TWICE! Gulp!
How has your globe-trotting influenced your writing?



Changing countries has always meant having a new place to learn about. I think, sometimes, when you're born and live in one place, you don't always get to know the history of the town or country where you live in as much detail as when discovering it for the first time as a new resident. Moving across the globe has given me an appreciation of exploring new places. I adore travelling! And I'm a sucker for castles and stately homes. A happy day for me is one immersed in a museum, or on a guided tour around a city. Put me in Père Lachaise cemetery in Paris (France), or in South Bridge Vaults in Edinburgh (Scotland), or in the ruins of Pompeii (Italy), or in the Sterkfontein Caves in Muldersdrift (South Africa), or in the goldmining town of Sovereign Hill in Ballarat (Australia), and I'm in my element! Knit this together with my long love of reading historical fiction, and it was inevitable that being a historical fiction author was on the horizon for me.
If you could travel back in time, what era would you go to? What draws you to this particular time?



I know I'd have to join a loooong line at the standing stones at Craig Na Dun in the Scottish Highlands to go back to the 1700s to be with Jamie Fraser (of Outlander fame), but I reckon it would be worth the wait! My Instagram profile doesn't say, 'Mentally married to Jamie Fraser' for nothing. But in reality, I like my creature comforts just a bit too much, so I'm perfectly happy for my body to sit on my comfy couch under the aircon, and let my mind wander back in time instead.
Who has been the biggest influence on your writing?



I would have to say Wilbur Smith. He writes amazing romantic adventures and sweeping family sagas with unforgettable characters. While writing larger-than-life adventures that span the globe, he always weaves in great romantic elements between his characters. I adore Smith's descriptions of the African wild (especially after having lived there myself). I wanted to emulate that same romantic adventure feeling with my own books, so you can imagine how tickled pink I was when one of my beta readers said that my early manuscript had a Wilbur-Smith-feel to it. I hadn't even let my beta readers know this tidbit of information, so it was the highest compliment of my burgeoning writing career!
Are you an avid reader? Do you prefer books in your own genre or are you happy to explore others?



I inhaled books when I was younger—across all genres. My first adult book that I read when I was 12-years-old was, The Power of One, by Bryce Courtney. It was the first book that made me sob out loud. I had no idea books had that power! My reading tastes then swiftly moved to Wilbur Smith's historical Courtney family saga, with my favourite book being, The Burning Shore. Through my teens, I also devoured dozens of Danielle Steele and Joan Collins novels. With an insatiable appetite for reading, I stopped using book covers and blurbs to judge the readability of a book, but I rather chose books by the whopping size of their spine. This led me to read, The Clan of the Cave Bear series, as well as Shantaram, which I absolutely loved, and my latest door-stopper find was Diana Gabaldon's Outlander series. Since I've become an author, I spend more time writing than I do reading, but I do still like to squeeze in a book or two here and there.
You commissioned some artwork for your novel. Please talk about that—the why, and the result.



As a yet-to-be-published author, I really wanted to have something juicy to add to my new website, while I waited for my book to come out. So, I thought it would be wonderful to commission portraits of my main characters, and scenes from my first novel.
Little did I realise the stunning flow-on effect this would have for widening my exposure. Not only do I now have artwork that has now become part of my branding, but it has resulted in the most fan art from my beta readers—including detailed cross stitch portraits, and knitted Christmas ornaments! I was so taken with the Christmas ornaments that I asked my beta reader to make a few more as a special giveaway to my newsletter readers. Gotta share the love! I've taken this one step further by creating my own Redbubble store called, By-the-Book (yes, like the name of my newsletter), where my readers can grab their own memorabilia.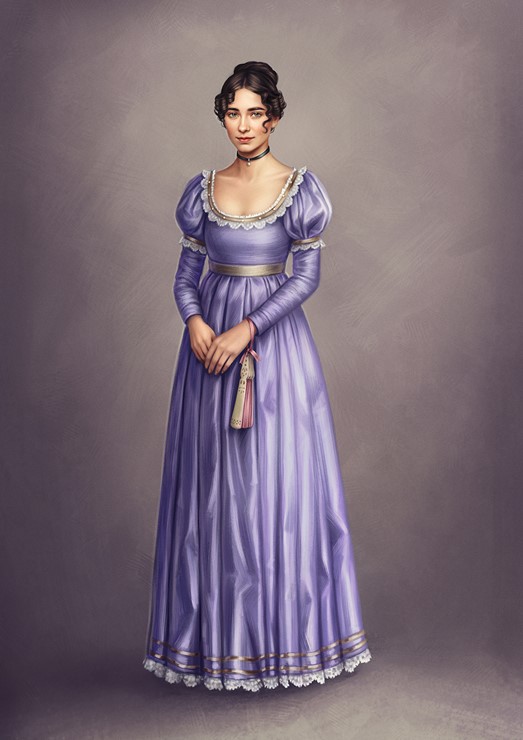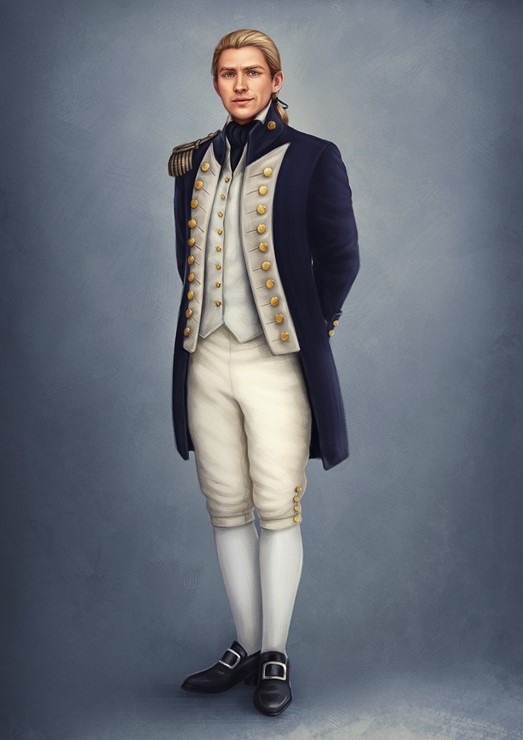 What kind of research did you do, and how long did it take you?



The irony of me writing a historical naval adventure is not lost on me, since I get terribly sea sick. Any grand notions of immersing myself aboard a tall-ship sailing-experience were totally out of the question (no matter how much my heart desired it). I had to make do with visiting a few ships museums (solidly dry docked) to garner a feel for shipboard life.
The idea of writing my naval novel had been percolating for many years, so while some of my visits to ships museums were not intentionally for research, I was certainly able to draw on the experiences and refer back to my photos while writing.
The serious research started about three months before I began writing, and has continued steadily as I write. My first stumbling block was realising how hard it was to find resources that discussed what life was like for women aboard tall ships in the 19th century. There was plenty of material about male sailors' experiences, but since my main protagonist is a female, I needed to dig deep to find what I was looking for. For example, I had to consider how my main character, Grace, would handle her monthly rags aboard a ship full of men. My female beta readers have appreciated these little details.
What's the best thing a reader has said about or written to you?



Naturally, it's expected that your friends and family will rally behind you and say lovely things about your writing, but I've been blown away by the complimentary kindness of virtual strangers, who are online acquaintances, new followers, or recently acquired beta readers.
I've had the pleasure of beta reading DISCERNING GRACE (Book 1) for Emma. Not only is she a fantastic writer, but she's a joy to work with, super supportive of her fellow writers and an all-round lovely person. I can't wait to see her debut novel out in the wild and I feel privileged to have been involved in her journey to publication.
The children. Very well drawn. Their conversations were very realistic and sweet. If Emma has got children I wouldn't be surprised, but if she hasn't, she did some great research—beta reader of GRACE ON THE HORIZON (Book 2). [For the record, I do have children—four teenage boys!]
About Emma –
Emma Lombard was born in Pontefract in the UK. She grew up in Africa—calling Zimbabwe and South Africa home for a few years—before finally settling in Brisbane Australia, and raising four boys. Before she started writing historical fiction, she was a freelance editor in the corporate world, which was definitely not half as exciting as writing rollicking romantic adventures. Her characters are fearless seafarers, even though in real life Emma gets disastrously sea sick. Discerning Grace, is the first book in The White Sails Series.
Connect with Emma: Website – Twitter – Facebook – Instagram – Goodreads