My monthly newsletter book reviews can be found on my Reviews of what I'm Reading page. But as I read more than one book a month, I leave other reviews here on my blog. They also get posted to Amazon and Goodreads.
Here's my review of Adam's Witness by J C Paulson

Keeps you reading!

I was fortunate to interview Jo Paulson for my March 2022 newsletter. Now I'm finally posting the review of her first book, long-promised!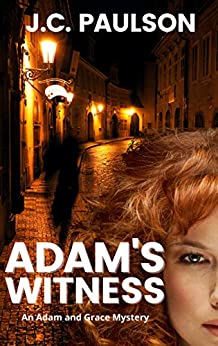 Dare they confess their feelings? Could they make it work?

Find Adam's Witness and all J C Paulson's work here.

Relatable characters
Paulson's relatable characters make you care what happens to them, and the plot moves along at a pace to sustain your interest.
Newspaper reporter Grace Rampling never thought to find herself at the centre of her own story until she literally falls over a dead body in a church. All she's doing there is trying to get a comment on why the church has suddenly cancelled a concert to be given by the Pride Chorus. When the police arrive on the scene, Grace isn't at her best, fearful the murderer may still be lurking and speckled with her own vomit. This, however, makes no difference to Detective Sergeant Adam Davis, whose attraction to Grace is immediate, and difficult. For Grace is not only his star witness in the murder, she's also a suspect and, as things turn out, a potential victim.

Paulson does an excellent job of creating tension around the two protagonists' feelings as each battles with the ethics of their situation, trying to stay aloof while falling more for each other as time passes. Grace and Adam are real people, with doubts and issues to be resolved, and Paulson handles their emerging feelings with sensitivity and finesse.
There's also tension in the unravelling of the plot, with my thoughts going to all manner of (wrong) culprits. The settings are superb, painted for the reader's eye with a deep knowledge of the city. I could feel that cold in my bones! All in all, a highly enjoyable read.