Dragon Gift is a collection of stories with fairytale, myth or fairytale-like themes of varying length and gravity.
'Lille herself avoided mirrors. They startled her with their frankness: her white froth skin, her too green eyes, sea thrift lips, and hair which shifted and tumbled like the yellow dunes.' Runner up in Graffiti Magazine 25th anniversary short story competition 2020
Quietly being released into the wild, Dragon Gift e-book is available from 16 July from Amazon.

It's been fun putting Dragon Gift together, and the reviews on GoodReads suggest it was worth the effort. Many of the stories have won awards, a few of them have been read by Canadian poet Jacqueline Belle on her YouTube Channel StoryTime for Grownups (you can catch those here) and others were hidden away in my computer waiting to be dragged out and polished up.

You can either grab your copy from Amazon (it's very inexpensive), or –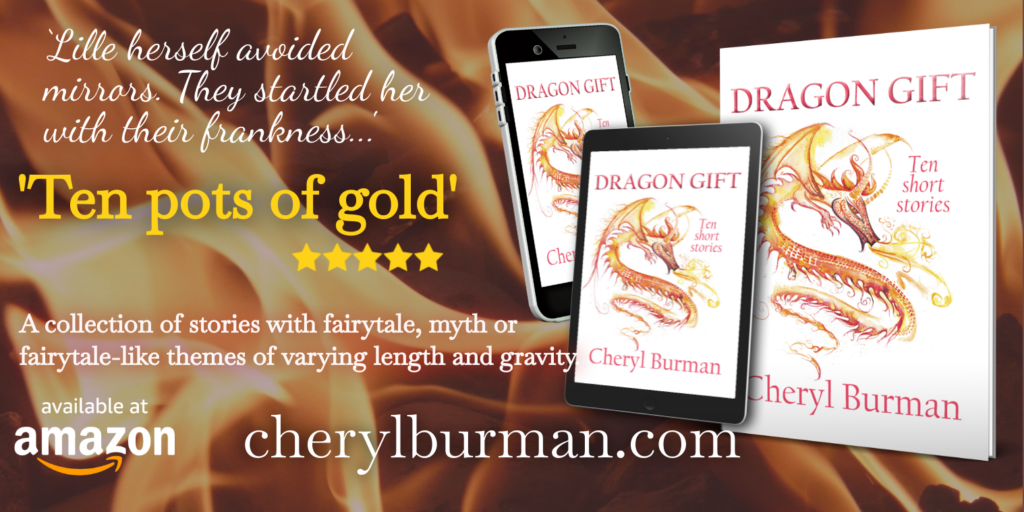 If you are signed up to my newsletter as at 12 August, you will receive a copy as a 'gift' from me when my next By the Letter goes out the following day.

Sign up is here! And welcome aboard.
'Provisioned with nectar of orange cordial, and slices of the softest bread filled with white and gold fragments of egg and carried in elf-made baskets of satiny tupperware, hunger could not call us away for hours at a time.' Winner of the Ottery St Mary adult section writing competition 2020