He didn't know why he bothered. The time and patience it took to get dressed each morning, being careful not to split his trousers or poke a toe through the shoes. Having to choosse which page of today's newspaper he would read – over and over and over …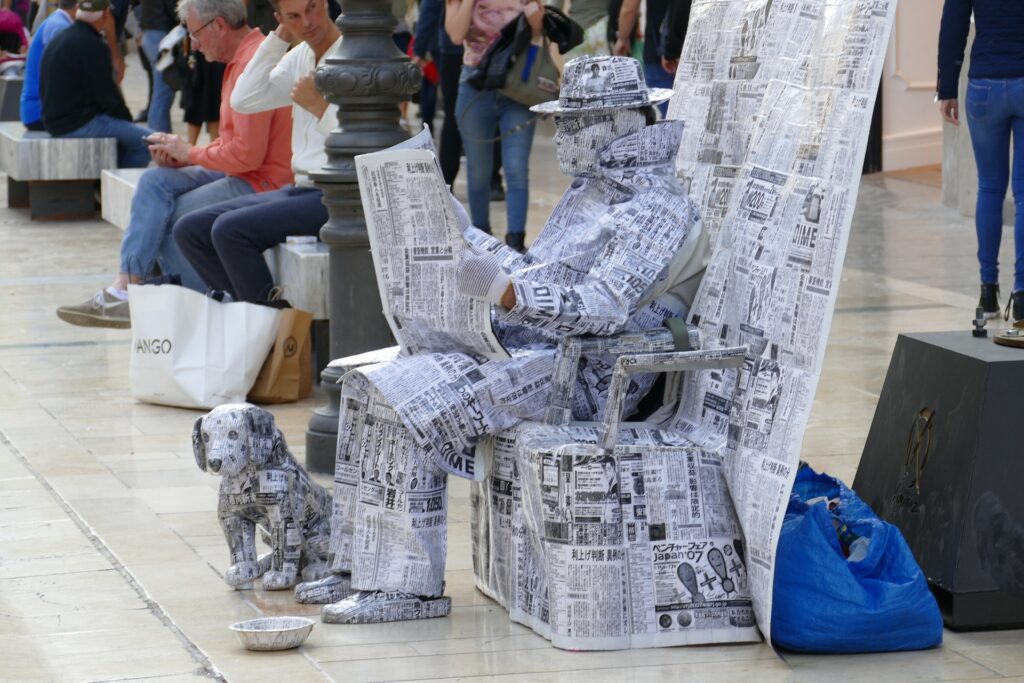 And then there was the care with which he had to carry his seat and its backing screen. The commuters on the Tube glared a lot, or else they sniggered.

The dog too was always an issue, getting the head at just the right tilt to cause passersby to stop and coo, say how cute is that, and toss a pound or two in the bowl.

He had sat in the hot sunshine for hours today. His arms ached, his legs were numb. He was hungry and thirsty. He flicked a glance to the bowl, and with a practised eye appraised it at perhaps £20. For a day's hard work.

He lowered the paper. Time to get the real money in.

'Come along, Blackie,' he called loudly, beckoning to the dog. 'Time to go home.'

He grinned beneath the newspaper, as those nearby started in surprise, laughed, and hurried to throw their fivers and tenners into the bowl.

Blackie shook his ears, lifted his head and stood with paper-covered tail wagging furiously, barking his thanks.
Follow the daily writing prompt on Facebook.
Find Cheryl's flash fiction and short stories, including audio versions of some, here!