Today's writing prompt and my response.
Day three of this week's challenge.

Eve's narrow hall, with its bright runner, untidy bookcase, and modern prints lining the tasteful cream walls, had gone. As had the floor beneath her shaking legs. Eve stood on a rocky ledge within a wide, grey stone tunnel. A rush torch blazed in a brazier to one side, but that wasn't the main source of the dim light.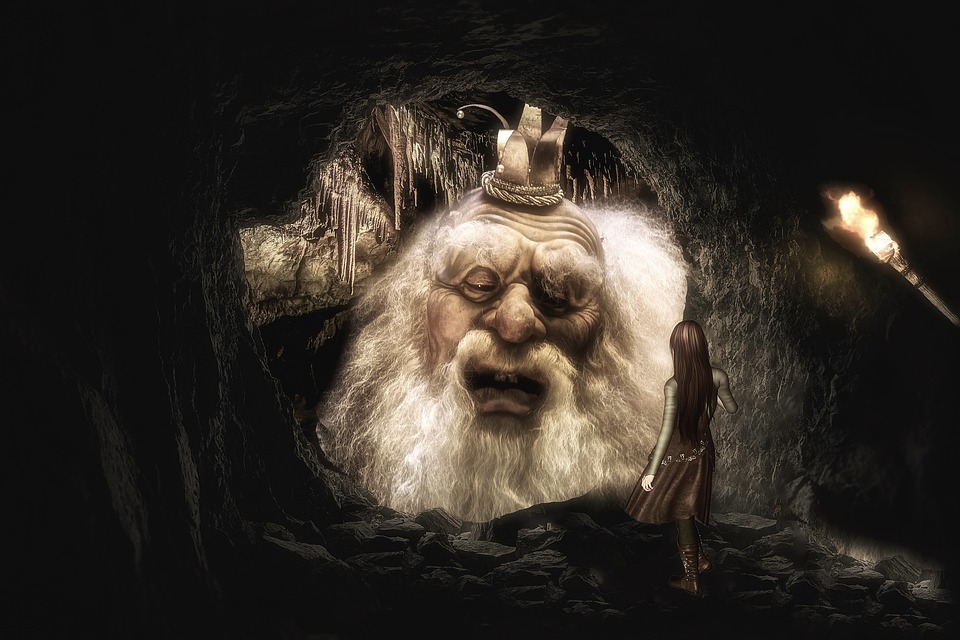 The tunnel opened into a cavern hung with glittering stalactites from which – and this was the primary cause of Eve's scream – the huge head of an old man peered, bemused, at Eve.
He might have been Father Christmas except he didn't look too jolly, and on his wrinkled bald head he wore a golden circlet ringed with jester's peaks and bells.

The mad dwarven king. Eve knew him immediately because he was in the game she was working on, the one with the glitch she'd only half resolved. She'd found him buried deep in the software, had thought him charming and set him aside to decide what role he would play.

Now he was in what used to be Eve's kitchen. She stepped back, eyeing him. Behind her, the door, the noise of the storm, had disappeared into endless blackness. Eve drew a long, deep breath, held it, closed her eyes, and exhaled. She'd fallen asleep … this was a dream …

'Eve, Eve … are you there?' The words came faintly, interrupted.

She jumped, realised she had her phone in her hand and someone was talking. The incongruity of the phone in this place solidified her view she was dreaming.

Still watching the dwarven king, Eve lifted the phone to her ear. 'Hello?' Nothing. How was there even a signal, albeit a poor one? 'Hello?'

'Oh, thank God … It's Colin, from work, I need to warn you … what was that scream? … Eve? Are you okay?'

'Colin? Ah, yes, Colin. Why are you in my dream?'

'Dream? What's happened?' The tension in his voice frightened Eve more than the sight of her transformed hall and the giant head gazing at her. 'It is a dream, yes?' she whispered.

'No, Eve … Whatever's … going on, you're very much awake. I'm sorry.'

'The dwarven king is in my hall.' She sounded crazy. 'Except it isn't a hall, it's a cavern.'

'Just the dwarven king?' Colin was crazy too it seemed. 'Not the knights?'

In the glittering cave, the dwarven king shook his great head and growled like a restrained Rottweiler facing a burglar.

Eve's mind flipped back to the moment Colin had peered, frowning, at her screen. Where the black and silver knights were refusing to submit to her code, and fight.

'Want to tell me what's going on?' she said.

'The knights – you mustn't–' The signal died. 
Find day four here
 

Follow the daily writing prompt on Facebook or Instagram.
Find Cheryl's flash fiction and short stories here!