My monthly newsletter book reviews can be found on my Reviews of what I'm Reading page. But as I read more than one book a month, I leave other reviews here on my blog. They also get posted to Amazon and Goodreads.
Tropical Love by RS Jonesee delivers a fun, fast paced and well-written romantic holiday or weekend read. All the elements are there! The torn apart lovers, the great misunderstanding, the wicked mother, separate successes but – the ache in their hearts (and elsewhere) which they thought had gone away…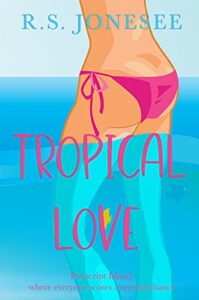 When Kingman and Francesca meet again on PostScript Island (great name!) after 18 years, it's clear the physical attraction is still hot. But neither wants to be hurt again. They fall into a casual liaison which for each, separately, is far from casual. Both secretly hope for more, but there is baggage to be dealt with and can that be achieved while poor Mother is apparently losing her grip on her mind?
Buy it here!

The setting is delightful – I was there in the clear waters, on the white sands, in the lovely resort. The supporting cast are well drawn and do their jobs well.
An excellent read for lying in a hammock between two palm trees with a colourful drink nearby.

PS There's been a lot more from R S Jonesee since this, so check her titles out here.