Summer Reading Challenge 2021

The Summer Reading Challenge is all about getting children aged 4 to 11 to enjoy reading. A worthy aim. Libraries across the UK take part, visiting schools ahead of time to talk about the Challenge and inviting children to sign up. A theme is set each year and relevant books uploaded to the site and to library shelves. So far, readers taking part in the Challenge have read more than 1.4 mio books.
Forest of Dean libraries

We have several libraries in our local area, three of them run by volunteers. I'm friends with most of them due to involvement in a Festival of Words a few years ago and in my role as Chair of Dean Writers Circle. They are full of warm, hard-working people who believe reading is the key to life – and who can't agree with that? Certainly not writers.
I always make sure to give the libraries a copy of my books, but when I heard that the UK's Summer Reading Challenge for primary school children is based on the theme Wild World Heroes, I jumped at the chance!

Because who's a wild world hero we know?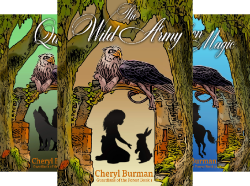 Of course it's Callie of the Danae and her wild army of forest creatures and the baby gryphon, Child.
Not forgetting the young Madach, Tristan who must find the courage to follow his heart and betray his warmongering, forest destroying father, Lord Rafe.
Click on the image to learn more about Guardians
A huge honour!

I reached out to the libraries and have been met with enthusiasm. One has asked me to present the prizes for their Challenge in late August, which is a huge honour, as well as do a reading.
Very much looking forward to all of it!
Free on Kindle 9-12 July

This year's challenge starts on 10 July so I have put Guardians free on Kindle for three days to encourage parents and grandparents to download the books for their children. And a PS – they have a strong fan base among adults of all ages as well. Good readers from age 8 will be able to read them for themselves, but I know several parents/grandparents who have enjoyed reading them to the younger children in their lives.

Now to choose which really really exciting pieces I want to read!