Today's writing prompt and my response.
The last day of this week's challenge. The story starts here.

Girl in dark forest: picture prompt
Granddad gestured, whispering, 'Careful now.'

The old man had a gleam in his eyes, which Robert recognised as mischief. He was certain there wasn't much to be happily mischievous about. It was the way Minna held her knife high, and the care with which she disappeared into whatever was beyond.

When Robert stepped through, he wasn't surprised to find he wasn't in a musty hallway, or a vestry. He was in a forest, winter-bare trees gleaming shades of grey in the moonlight. He could see neither Minna nor his grandfather. The cat had jumped from his arms. It stood very still, staring into the trees behind Robert, hackles raised.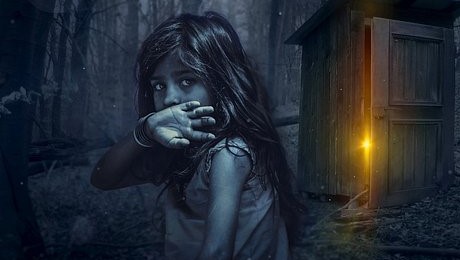 The shiver of fear which ran down Robert's spine turned to disbelief when the cat grew, reshaped, and morphed into the figure of a child – a girl with long, dark, tangled hair, bare-armed, dressed in a filthy shift. She held her hand to her face and kept staring beyond Robert.
Reluctantly, as if what was there wouldn't be real if he didn't see it, he turned. His own hand flew to his face. The trees filled with ghostly shapes, weaving between trunks, melding into each other, splitting apart, reforming. A buzzing sounded all around him, the anger of the ghostly figures. They milled about, not moving towards Robert and the cat/girl, who now spoke, in a mewling voice.

'Minna and Grandfather … they've gone around. They plan to herd these, like sheep.' She glanced around, exhaled. 'It's here, we came out right.' Her voice lost its purr, but was rusty with disuse.

'That?' Robert pointed to a small windowless shed, like an old-fashioned outside toilet. 'What's it doing out here in the middle of the woods?

But he knew. He knew what the shed was. He knew who the child was. Minna's daughter, sent with him when last he left this place to be his connection to home, his real home. Here.

As memory eased into his confused mind, he understood also what he needed to do. He held a hand up to the shed, twisted his wrist and murmured words he recognised but didn't understand. The shed door opened, revealing a golden light which brightened as the opening widened.

Robert faced the white mist of figures in the trees. Ghosts of the past, caught in a world to which they did not belong. Frustrated and angry, they threatened the peace of his home land, for if they roamed further, their deathly touch would destroy all life.

It was why he and his grandfather had been summoned. Ghost whisperers were rare. Robert's role was clear. He strode towards the mass, his hands shaping signs and signals of their own accord, their meaning becoming clearer to him as he went.

'Follow,' he murmured to the ghosts. 'Follow me to your own times, to where you will be restored, find life again.'

The ghosts ceased their aimless milling, began to drift from the trees towards him. Their buzzing softened, a susurration of relief. Behind the mass, Robert glimpsed his grandfather urging them forward, also signalling with his hands.

When he knew he had captured the first rows, Robert eased back, towards the glowing opening. Step by step, ensuring the ghosts kept coming, the hand movements consistent, fluid. Until he reached the shed.

Minna appeared from the other side. 'Keep me in your sight, Aden.'

She used his home-world's name and he breathed it in, soothing as warm cocoa, even as he waited for the ghosts to follow him into the golden light. They came, bringing with them the iciness of long dead bones, floating past him as he stood just within the doorway, his eyes fixed on Minna.

It seemed an aeon before all were through – and perhaps it was – and his grandfather stood by Minna's side, the child holding her mother's hand. Robert – Aden – moved away from the fading glow into the woods. His grandfather closed the shed door and grinned.

'Good to be home, hey, lad?'

Follow the daily writing prompt on Facebook or Instagram.
Find Cheryl's flash fiction and short stories here!