My monthly newsletter book reviews can be found on my Reviews of what I'm Reading page. But as I read more than one book a month, I leave other reviews here on my blog. They also get posted to Amazon and Goodreads.
Buttercups in the Basement is the second in the Hummingbird House series of novels which centre around the owner, Betty, and her tenants in this wonderful old house.
As with The Landlord of Hummingbird House, book one, Jane Harvey brings us a story of complex, relatable characters and their relationships with each other – and with themselves. The protagonist this time is Betty, and we get to follow her in the early days of her marriage to William and their purchase of Hummingbird House in 1967, and also in the modern day.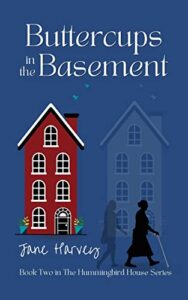 I loved young Betty. In 1967, she is an innocent abroad, with high hopes of being fulfilled in the role of wife and, soon she hopes, mother. She's given up a job she enjoyed to meet the expectations of her mother and mother-in-law to be a stay-at-home wife, and while she throws herself into house renovations, somehow they aren't quite as satisfying as the paid work she left behind. But Betty is saved from boredom, and ongoing innocence, when she befriends her first tenant, Sandra, who is 'living in sin' with her boyfriend Robert.
Betty's eyes are opened to many things during the telling of this tale, which serves to remind us that a great number of the hot issues of those days are, sadly, still with us, albeit in slightly different forms. Detail means spoilers, so I won't say more.
I loved Betty's naivety, her optimism and her willingness to not be shocked but to learn. The juxtaposition with the rebellious, worldly Sandra, a mere year younger than Betty, ensures both characters jump off the page and into your head, wanting only the best for them. Which proves difficult, especially for Betty. Red herrings also bound, and Ms Harvey is very skilled at leading you along paths which suddenly shift but make you exclaim, Oh yes, of course!
In the current day, we relive bits of The Landlord, but with a greater emphasis on Betty's relationships with her tenants, especially the troubled Dai. The glimpses into the lives of characters we met earlier tease us into wanting to know even more, to follow their stories as well. Hint, hint.

Ms Harvey's writing is tight, and the story flows along at an excellent pace. The reader is taken smoothly from 1967 (where older readers will find a lot to be nostalgic about as well as a lot to be horrified about) to the present day, and leads to a conclusion which was, when you think about it, inevitable but in no way predictable.
While Buttercups is the second in the series, it works perfectly well as a standalone, although you would want to read book one afterwards of course.

A highly recommended read.

Find Buttercups in the Basement by Jane Harvey on Amazon here.