My monthly newsletter book reviews can be found on my Reviews of what I'm Reading page. But as I read more than one book a month, I leave other reviews here on my blog. They also get posted to Amazon and Goodreads.
Blood and Dust is a western fiction novel, which isn't my thing, although I was an avid watcher of cowboy shows as a kid. But as a reader and an author, I make sure I stretch myself occasionally and pick up a book which 'isn't my thing'. And (this is not always the case) I was very glad I did with Blood and Dust.

Paulson's story is fast moving and also well written. I read this book over a couple of days which is rare for me these days, and shows how much I was engrossed in James's story. A deserving hero, with his priorities and manners in the right places, but no mama's boy: James rolls up his sleeves and gets on with things when there's no other recourse and despite his own self-doubts.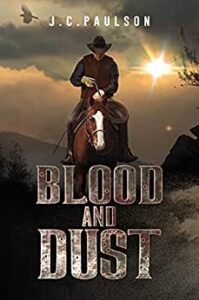 When young James Sinclair is accused of a crime he didn't commit, he is forced to flee his home town of Toronto and go as far west as he can – but will it be far enough? Along his adventurous journey across the wide, flat lands, he falls in with some great, well-rounded characters–for better and for worse–including his new best buddy, Buck. Loved Buck!

Behind this engaging plot is a setting and history of which I knew nothing, but which came to life for me as I read it. The Métis traders with their racket-making carts, the nascent 'towns' where mutual dependence is critical for survival, the raiders, the speculators as the railway pushed west, and most of all the men and women who stuck it out to build communities for the future, fascinated me. They also played their parts credibly in the tale.

I can easily see a sequel here, the beginning of a series, or possibly a family saga following James's and his potential family's journey over decades. There are other characters too whose stories scream out as a source of further rich entertainment. How about Hannah, Ms Paulson? Surely she deserves her own book?

Highly recommended – especially if you don't do westerns.

Buy Blood and Dust here