Princess Zarina learns some life lessons the hard way, and with the help of a dress which is at first a great disappointment to her. She wasn't going to wear black – black! – to her Royal Advancement Ceremony. No way! Where was the gold dress she wanted?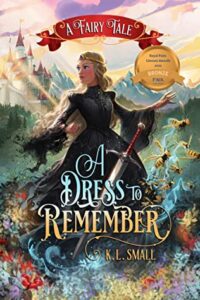 This pacy tale could sit with the Brothers Grimm, including its non-avoidance of the not so pleasant aspects of life. We have heroes and traitorous villains, death and 'resurrection' of a sort, witches, magic aplenty, castles, moats, and a spoiled princess turned heroine, all contained in a twisting plot which keeps you wondering where this is going to end.
Beautifully illustrated by Goosebumps illustrator Brandon Dorman, A Dress to Remember is a tale which will delight keen young fantasy readers, who will find themselves quickly on Zarina's side. It will also thrill their parents, who will be keen to offer this as bedtime reading – or just read it for themselves. 

Find A Dress to Remember here on Goodreads
My monthly newsletter book reviews can be found on my Reviews of what I'm reading page. But as I read more than one book a month, I leave other reviews here on my blog. They also get posted to Amazon and Goodreads.