Today's writing prompt and my response.
Day six and the last of this week's challenge. The story starts here.

As he fell he waited for …
… go to her father's grave? Colin rubbed his chin, stunned. Exactly like Julie?

Eve lifted her raincoat from her chair and slipped her arms into it.

'Tonight?' Colin said.

'Yes. It's not far, I'll take a taxi.' She nodded at the computer. 'I'll come back later, and finish this.' She gave him a smile he didn't trust. 'One way or the other.'

'I'm coming with you.'

Eve shrugged. 'Fine.'

The cab ride was taken in silence. Colin sensed Eve was coding in her head, working it out. She'd made up her mind, he knew it, but as long as he kept her from a computer, the world was safe for an hour longer.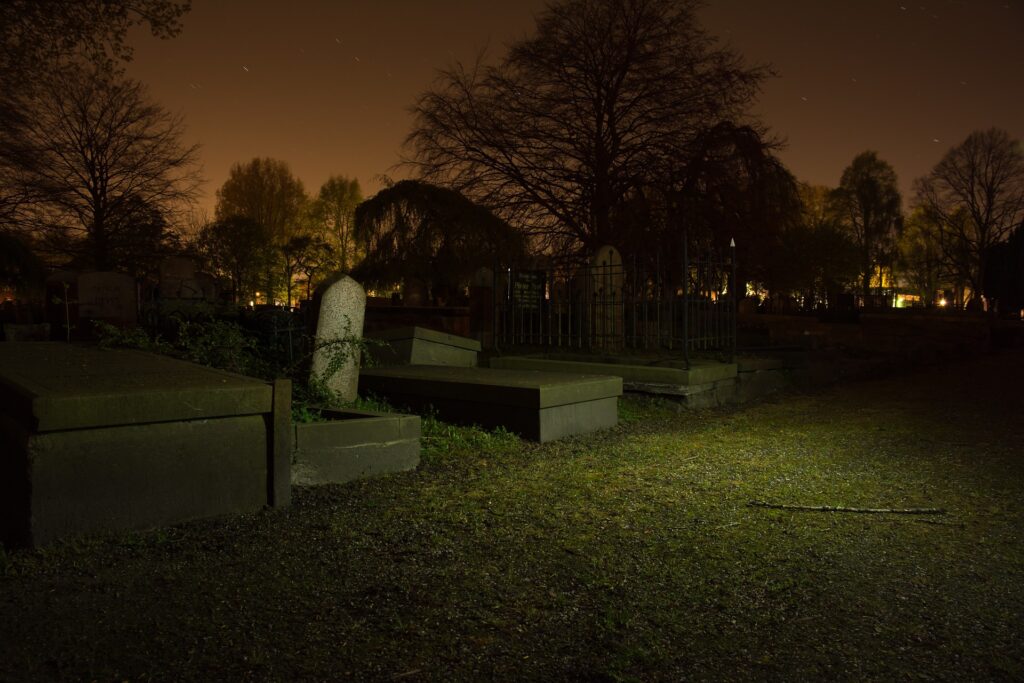 Eve's father was buried in a graveyard overlooked by an ancient church. Between the leaning tombstones, uncut grasses bent wetly in the damp air.
The wind had dropped, and a white moon rode the massed thunderclouds above them. Eve, sure footed even in the dark, lead Colin off the narrow, weed-ridden path into an area where the graves were cracked, their stones in many cases lying on the ground, others at precarious angles.

He shone his phone torch here and there. The inscriptions were worn with age, in many cases illegible. Why would Eve's father be buried here, with the long-forgotten?

'Hello, Father.' Eve stood at the foot of a massive stone slab, broken through the middle so that the two halves teetered over whatever was below. The stone was upright, but the epitaph was undecipherable.

Colin stood to Eve's side, glanced at her sombre face. 'This is your father's grave?'

She gave him a sideways look and her eyes were different. Darker, older looking. 'Yes. You will see.' Her voice too had changed, its timbre deepening.

The same sense of impending doom which had sent Colin from his home to find Eve before it was too late, filled his gut. 'Wait.' He laid a hand on her arm. 'What's going on?'

Without taking her attention from the grave, Eve forcibly shrugged off the hand.

'Father, we're here again. What would you have me do?'

Colin expected silence, while Eve thought things through. He didn't expect the form which materialised above the grave. He gasped, his heart thudding. No ghost this, but a solid entity, and one he recognised. Long dark hair to his shoulders, from which hung a deep purple cloak edged with gold and silver tapestry, a crown on his head –  the king from the video game. Terror crawled from Colin's gut to his throat.

'My daughter, you know the answer to your question.' The king reached out a hand bearing rings which glinted in the moonlight. 'Your sister failed us last time.' His deep voice carried no emotion. 'You will not. You must set the knights free.'

'No!' Colin rushed at the king, hands flailing 'It can't happen! Mankind will die-'

The king caught Colin's hands, pulled him to his armoured chest. The fractured stone split with a doomsday crack. Colin was held, suspended, above a gaping, black maw.

'Puny mankind,' the king boomed.

Colin's legs were jelly. Cold sweat soaked his coat. Eve gazed at the king, a smile playing on her bloodless lips.

With a jerk, the king released him. Colin's stomach heaved with fear as he plunged, screaming, into the grave.

As he fell, Colin waited for the moment he would wake, sweating, in his own bed … And waited …until the darkness overcame him.

The end

Follow the daily writing prompt on Facebook or Instagram.
Find Cheryl's flash fiction and short stories here!