Today's writing prompt is a picture. Here's my response.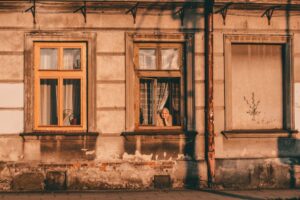 What is she looking at in the sepia evening light?

I imagine the narrow paved lane outside her window. Small cars purr around smart young men and women on growling scooters, well-fed children shout in play, black-clad nonnas hobble their way to evening mass, and harassed mothers rush homewards with baskets of end-of-day market bargains. The air is arid, dusty, bearing scents of gasoline, a blocked drain under the rusted downpipe, a faint promise of ripe tomatoes.

But does she see this? Do the smells and sounds reach her, or has her gaze reached back to another time? The nonnas were there then, but laden donkeys made way for men on wobbling bicycles, the shouting children were barefoot and skinny, and she herself was one of the harrassed mothers, her face strained as she sought out any food, of any kind. At any price. She rests her wrinkled cheek on her pain-bent fingers, stares into the sepia evening light and remembers …
Follow the daily writing prompt on Facebook or Instagram.
Find Cheryl's flash fiction and short stories here!