My monthly newsletter book reviews can be found on my Reviews of what I'm Reading page. But as I read more than one book a month, I leave other reviews here on my blog. They also get posted to Amazon and Goodreads.
Here's my review of Learning to Fly

A fascinating mix

I've come to this series at a mid point, but it made no difference to my enjoyment of this fascinating mix of deeply researched history and fantasy. I love history, and I love certain kinds of fantasy so this story of angels and Asars and fourth nocks and Neve's conflicted desires was right up my alley. Oh, and a lovesick dragon too.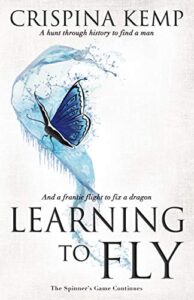 "We buried Skimaskall there," an unlikely-looking youth says.
"And Skimaskall is?"
"A dragon."
Find Learning to Fly and the rest of the series here
When a strange young man enters Neve's new life in a seaside village, she finds herself torn between despair at his immaturity and the thrill of his ability to transport her back centuries, reliving his own memories of more interesting times. Neve embarks on two quests.
One is to find her grandfather who left her beloved grandmother under strange circumstances. The other is to stop a dragon, comfortably asleep on a bed of English gold, from being rudely awakened by a proposed wind turbine. For if that happens, the inhabitants of the area will have all the heat they never wished for.

I have to admit I brushed over a lot of the genealogy as my brain never copes well with who's related to whom. But no matter who was the source of whom, the characters are wide and deep in their humanity or non-humanity. I wanted to assure the naïve Guy and his outspoken squire that all would be well (I hoped), I was taken completely by the Cezas, and quite understood Neve's attraction to Rat. Then there's Neve's annoying but necessary banished angel, a complex character who teeters on the edge of being the good guy or the bad guy.

At 730 pages, this is not a quick read. But it moves along at a satisfying pace, with twists and turns and dicey situations. I've grown too old to go searching in the back of wardrobes, but perhaps I can take up wandering through industrial estates in the hope of stumbling across…   

These books need a wider audience, so take the plunge! PS Crispina will be my guest author later in the year – looking forward to that.