Today's writing prompt and my response.
Use the prompt however you like, one at a time, or pen a short story over as many as you like.

The picture had hung on the wall all my life. A scene from another era, another place – the fantasy of the vast expanse of water, the gracious white floating creatures with their small dark cousin in the background. The only familiar item there was the huge white moon. We had two of them in our bare, uncluttered skies.

When I was old enough to be curious, I asked Mother where the picture came from.

She leaned over the table, serving grains and vegetables into the family's bowls. 'From my mother, and her mother before her.'

'What place is it?'

She smiled her mysterious smile, the one where I couldn't be sure if what came next was truth or tale.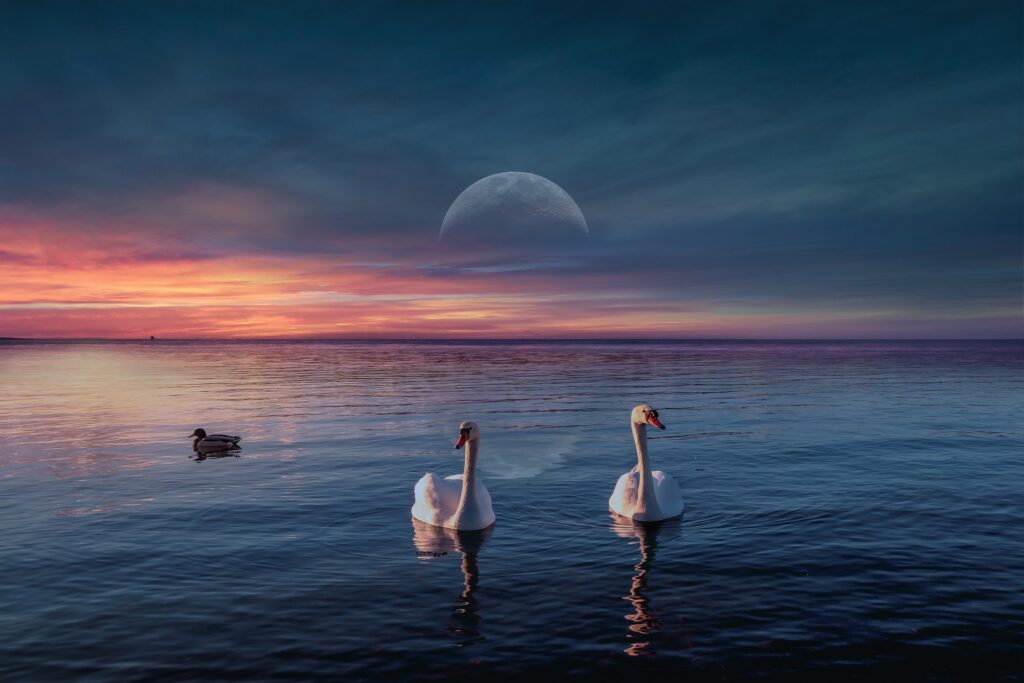 'What was once home.' She sighed, sat at her place and waved to us all to start eating. 'So Grandmother told me, although she had it from her grandmother, and we know how these stories can get about.' She laughed. 'Chinese whispers, although who or what chinese were has long been lost to history.'
'Alexa will know,' I said.

'Alexa might have once. Much has been lost over aeons.'

I would test Alexa later. For now, my thoughts were on that beautiful image.

'What is the water? How could there be so much water anywhere?'

Mother studied the image, which hung on the dining room wall. 'A true wonder, if it was ever so.'

'It must have been so, once upon a time.' Father set his fork down to join the conversation. 'That's what they used to call a photograph, so an image of something real.' He shrugged. 'The colours may have been played with, but the water, the swans and the duck once existed and a person once took a photograph of them.'

Mother and I stared at him. My heart beat faster at the thought of all that beauty being seen in three dimensional real life.

'Swans? Duck?' Mother said. 'You mean the creatures on the water? That's what they're called?'

'Yes. And the water is likely a very large lake, although it could be the ocean.'

I squinted at him. 'What's a lake, what's an ocean?'

Mother had her own questions. 'How do you know this? Why have you never told me?'

Father picked up his fork, waved it in the air. 'I asked Alexa. She's been given an upgrade so you can show her images and she'll tell you what she knows about them.' He grinned. 'The wonders of modern technology, hey?'

Follow the daily writing prompt on Facebook or Instagram.
Find Cheryl's flash fiction and short stories here!