I heard this hilariously relatable 'battle cry' at a local poetry festival, written and read (brilliantly) by the indubitable Pam Singer. Pam is an active member of our writing scene who, by her own admission, has probably achieved this ambition already. How a Canadian came to be in the Forest of Dean (as rare as us Australians) is a story to explore another time!
I want to be a battle-axe
Refuse to pay my council tax
Then chain myself to County Hall
And scrawl my slogans on the wall;

Oh yes, to be a battle-axe
And stride down disused railway tracks
And shake my stick at reckless bikers
Join the herds of goat-like hikers

I plan to be a battle-axe
Refuse to paper over cracks
I'll dig the dirt and rake the muck –
Poke my nose in, push my luck.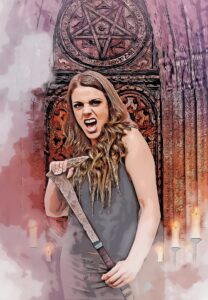 How great to be a battle-axe
And put in writing my attacks
On Mozart ring-tones, mid-lane hoggers
Vicious trolls and ego bloggers.

I long to be a battle-axe
And send a universal FAX
Denouncing those whose venal vice
Is giving loads of free – AND, MAY I SAY, USUALLY UNSOLICITED – advice.
For when I am a battle-axe
I'll stand up tall and face those hacks
Who spout off all their mindless drivel;
Well, watch me glare; and watch them shrivel.

So once I am a battle-axe
I warn you all to watch your backs.
My nerves of steel are lowly-strung;
My choice of weapon: lashing tongue.

So watch me be a battle-axe
And put up shiny, round blue plaques
To gobby women from every quarter
From Ena Sharples to Janet Street-Porter
From Bhutto, Benazir to Craddock, Fanny,
From Oprah Winfrey to Shaindel, my granny
From Germaine Greer to Ruby Wax
Can't wait to be a battle-axe!