My monthly newsletter book reviews can be found on my Reviews of what I'm Reading page. But as I read more than one book a month, I leave other reviews here on my blog. They also get posted to Amazon and Goodreads.
I came across this book via Twitter and very pleased that I did. As I write MG fantasy, it's always good to see what others are coming up with and to be astounded at the range of imaginations out there! Fi Phillips doesn't disappoint!

The story carries you along, always wanting to know more and what's going to happen next – and it takes all kind of twists and turns leaving you wondering who are the good guys and, more importantly, who are the bad guys.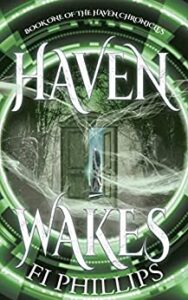 Steve is a charming, self-effacing hero. He's missing his parents but he manages to take the strange happenings in his stride, eventually, and proves himself truly inventive and courageous. A great read for youngsters and adults alike and a great beginning for a series.
Click on image for Goodreads page
Fi Phillips' second book in the series releases on 2nd August 22, so now is a good time to pick up the first and share it with a young person in your life who loves fantasy adventure.