Dreena Collins is a master at contemporary short stories where she picks at the veneer of outward behaviour, layer by layer, until the raw pink skin of truth is revealed. Now she has taken this talent and successfully turned it into a psychological thriller in And then she fell.

Catherine Keely's daughter, Susie, is dead, a fall from a balcony while on holiday in Crete. Drunk, an accident, say the formal findings but, a year on, Catherine can't let it go. Intellectually she knows she should accept this as the truth. Emotionally, it feels all wrong.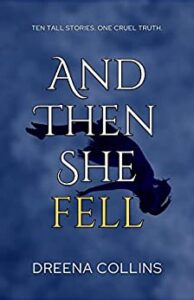 Catherine visits the hotel where the tragedy occurred and returns home to England not much wiser. But her visit leads to a series of conversations with Susie's friends who were on holiday with her, and with her boyfriend of the time, the handsome, charming Daniel. Catherine has never been truly comfortable with Daniel, although she can't fault his behaviours and his way of making instant friends with all he meets. She's clutching at straws. But what about the things Catherine is just learning about her daughter? She believed she knew her well, and now discovers her friends and her brother were aware of 'issues' of which Catherine has been ignorant, despite the signs. Has she been living with a delusion for years? Has she been a neglectful mother?
Catherine's quest for meaning is interspersed with various scenarios of what might be the truth of that night. Common elements are put into different contexts, and the reader is asked to consider the likelihood of each scenario as Catherine believes she is gaining more insight, or perhaps, more acceptance. Collins adeptly follows Catherine's thought processes as they circle round, point their finger here and then there, until … well, you have to read the book for the 'until'. All I will say is that the ending caught me by surprise, but was totally appropriate, and skilfully told.

Highly recommended.
My monthly newsletter book reviews can be found on my Reviews of what I'm reading page. But as I read more than one book a month, I leave other reviews here on my blog. They also get posted to Amazon and Goodreads.