Catherine Goggin is 16 years old, pregnant, and lives in a small Irish village in 1945. In a vicious display of righteous (and as it turns out unjustified) indignation, the priest publicly humiliates her and banishes her from her home and family. But Catherine is made of stern stuff. She makes her way to Dublin where she finds somewhere to live and – passing herself off as a war widow – a job in the tea rooms of the Irish Parliament. In a well executed plan, she gives up her baby boy for adoption and returns to work, where she stays until retirement.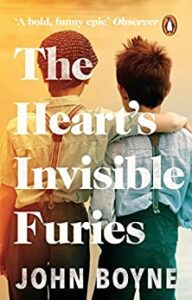 The Averys, the well-off adoptive parents of the boy, Cyril, are an odd couple. Cyril is required to refer to them as his adoptive parents, and calls them by their Christian names. He lacks for nothing physically, but they treat him more like a visitor in the house than a son.
Age eight, Cyril meets the highly excitable and exciting Julian Woodbead of similar age, and finds himself unable to get the boy out of his head. When they meet again at boarding school, they become best friends. Cyril, realising by now that he is gay, is in love with Julian, who is fiercely, promiscuously, heterosexual and has no inkling of his friend's true feelings. Until … but no spoilers.

This was a mixed bag for me. I had no idea of the story when I started the book, and sighed heavily when it became one of what feels like a long succession of Irish Catholic guilt and repression tales. Readers do love them though! It also has little in the way of a plot: it's the tale of one man's seventy years on this earth, much of which is spent angsting over his hidden homosexual life and the impact, occasionally horrendous, which his forced duplicity has on others. I didn't warm to Cyril, feeling he made his life harder than it might have been.

Yet, despite my grumblings, I read this 700 page book over just a few days, reading in the evenings for long stretches, wondering what it was that kept me going. Gorgeous writing, of course. The way in which Boyne brings a light, humorous tone to events which in actuality are awful, while ensuring the true life and death tragedies, are told as such. The other characters too, especially Catherine Goggin who pops up now and then. Maybe it was waiting for the time Catherine and Cyril realise their relationship. Whatever it was, I finally put down this book with a sigh that it was finished. And yes, I will read more Boyne but will check the book blurb carefully first.