I've much enjoyed R S Jonesee's Postscript Island books, so this was a natural for me to read. A standalone (although there is ample opportunity for a series I would think).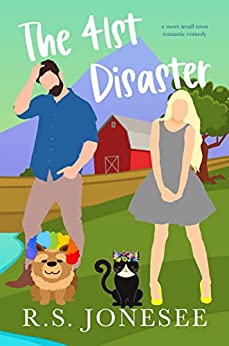 After the 41st date which has gone belly up, Elsie swears off men and vows to focus on her party planner business.

Meanwhile, Dirk is still hurting after his wife left him for another man and wants nothing more to do with women.

But when Dirk moves back to his hometown and meets Elsie – hidden behind a clown costume – sparks begin to fly. Trouble is, Elsie's wealthy business partner has targeted Dirk as her future husband and basically blackmails a reluctant Elsie into conspiring with her to achieve her aims.
What could go wrong?

The plot has twists and turns to keep you reading, but what I love most are Jonesee's characters. They're always well-rounded, real people, and you can't help but get involved in their emotional turmoil and root for them all the way.

An excellent read. Just the book to take you out of yourself and make you smile.

Find The 41st Disaster here.