This third book in Jane Harvey's Hummingbird House series engages us even more deeply in the lives of Betty and her diverse 'family' of tenants, both then and now.

Harvey's world is filled with wonderful characters for the reader to love, smile at, or be furious with (not talking about anyone's mother of course!) In my review of the second book, Buttercups in the Basement, I said 'Jane Harvey brings us a story of complex, relatable characters and their relationships with each other – and with themselves.' This holds true in book three as we watch our now (mostly) familiar characters deal with new challenges, especially our leading lady, Betty.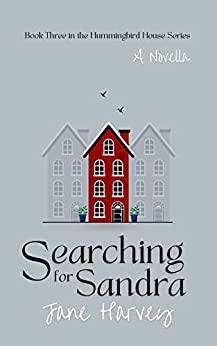 In 1968 Betty has accepted the oddity of her married life, with an absent husband but plenty of company with her brother and his family settled in the top floor flat. But there's a new tenant – the delightfully odd but appealing Arthur, who appears to be everything Betty's husband isn't: attentive, thoughtful, and he even cooks.
Find Searching for Sandra here.
When Betty's friend and former tenant, the vivacious but fragile Sandra, goes missing, Arthur insists he and Betty search for her, and Betty learns more on this journey than simply where her friend is.

In the present day, Jonty is concerned about his mother, this same Sandra, who has gone missing, again. Jonty dithers about looking for her. His mother is her own person, always has been, and you'd never call her the perfect mum (my heart broke at one briefly told incident of their history). But he loves her, and when his husband insists on making the trip to Sandra's village, they discover they are just in time, and a lot more …

In both the past and the now, Searching for Sandra is about maturing, about understanding your own feelings, and about dealing sympathetically with the troubles of loved ones, with great examples of how and how not to. Not only does Harvey have a knack for bringing these ordinary characters with their ordinary problems to life, but she does so in settings which are deftly portrayed. Loved 1968 London – park anywhere!

Searching for Sandra leaves our protagonists where they should be, for now. But I have a lot of questions about What Happens Next to this diverse crew and eagerly await answers!