My monthly newsletter book reviews can be found on my Reviews of what I'm Reading page. But as I read more than one book a month, I leave other reviews here on my blog. They also get posted to Amazon and Goodreads.
Want to put everything aside and get lost in a fun, teasingly sexy read? Make sure you get this third book in Jonesee's excellent Postcript Island series.

Marissa Sinclair, daughter of Postcript Island's resort owners, is pretty happy with life. After all, she's about to fulfil a lifelong dream and open her own art gallery in the local Sante village; she has a boyfriend who's attentive, polite, makes perfect coffee, and can hang pictures; and a posse of girlfriends to cheer her along and have her back at every turn. All well and good, until Weston Stambro makes a dramatic re-appearance in her life. Hasn't she grown out of love with the boy who promised to take care of her on her first day of kindergarten and was always 'the one', until he wasn't? He fled the island, left her. What is he to her now? Apart from a gorgeous hunk of manhood with smiling eyes.

Weston has put his five years away from home to good use, building a hugely successful condom business, to the point he has a private chopper to take him from his four story luxury yacht (two swimming pools etc) to the resort and elsewhere. He also has a small private staff who love him, and would do anything for him. And do! Weston too, has put aside thoughts of Marissa as 'the one'. He likes to play around, one night stands and brief liaisons being easier on the emotions. He'd quite like to be friends again though. If that's possible.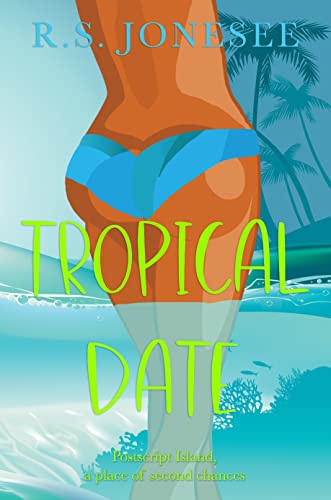 What I loved about Tropical Date was the see sawing nature of how the relationship between the two develops, keeping the reader on edge, especially with Marissa's vagaries! Poor Weston. Although, maybe not poor Weston. Are there ulterior motives at play here, to do with the mysterious potential buyer of half of Sante's shops? He seems like a great guy, a true philanthropist and home to help his mom and other Sante shop owners make the right decision. But what does the buyer intend to do with all that property, and why are they apparently getting very nasty with people (like Marissa and her boyfriend, Gus) who speak out against them?
Find Tropical Date here or click on the cover
The mystery adds an extra depth to the romantic tale, an engaging sub-plot which gives rise to real conflict outside what I expected. Jonesee draws the threads together most skilfully and I bet you'll never guess … ok, no hints.

Well written, well plotted, characters we care about and a gorgeous setting – what's not to like? Oh, and don't forget this is a steamy romance, and steam there is! Highly recommended.

PS While there's no need to have read the other books in the series to enjoy this one, I highly recommend you do so. You'll meet familiar friends and make new ones, and get to enjoy tropical bliss all over again.