To get hold of your free ebook Dragon's Gift, all you have to do is sign up to my monthly newsletter.

Dragon's Gift – a collection of myth, fairytale and legend-based short stories – has great reviews. Some stories are light, others very much not so. Some turn fairytales on their heads, others are entirely my own original thoughts! Several stories have won prizes.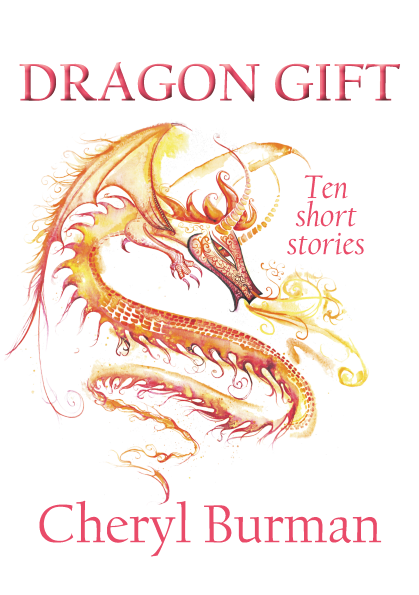 'Definitely add it to your TBR list. It's more than worth a little bit of your time.'

'…you'll be swept away by the amazing imagery, the surprising plot twists, and the enchanting (yet often wicked) characters.'

'…magical, mystical short stories that will enchant you from the first page to the last.'

Yours for free
And now the free ebook Dragon's Gift is yours for free, simply by clicking on the subscribe button below.

(If you'd like to check out what you'll be receiving in my newsletter, take a look at past copies of my newsletter here.)

Welcome to the Cheryl writing family!

To help you decide – here's the blurb!
'Lille herself avoided mirrors. They startled her with their frankness: her white froth skin, her too green eyes, sea thrift lips, and hair which shifted and tumbled like the yellow dunes.'
Runner up in Graffiti Magazine 25th anniversary short story competition 2020

'Provisioned with nectar of orange cordial, and slices of the softest bread filled with white and gold fragments of egg and carried in elf-made baskets of satiny tupperware, hunger could not call us away for hours at a time.'
Winner of the Ottery St Mary adult section writing competition 2020

A collection of stories with fairytale, myth or fairytale-like themes of varying length and gravity.
Cheryl Burman's stories, flash fiction and parts of her novels have been long and shortlisted and awarded prizes in competitions including Flash500, Retreat West, Stroud Short Stories and the Historical Writers Association.